Newly Discovered Wedding Themes
Picking out the perfect wedding theme that would please everyones eyes is a task that usually every couple face . The first step to your Big Day which you don't want to go wrong with . Once you select the theme of your dreams , it gives a kickstart to the rest of your wedding preparations . But if you are lost on the map , you don't know which direction you want to go , we made a list of some latest wedding trends of 2018 that are perfect for any style and venue , no matter how unique . This would definitely help you set the tone of your big day.
Rustic wedding theme
A wedding venue surrounded by woodland could also be the perfect setting for your rustic day and can help to add an enchanting twist .Add a more relaxed twist to your wedding ceremony by swapping formal chairs for wooden benches, they will need far less decoration and will look amazing in your wedding photos.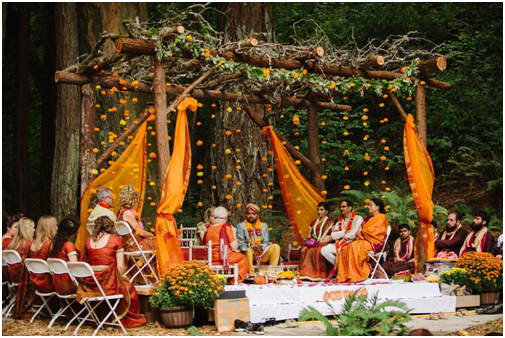 Vintage meets Modern
For The entire family to come together and decide on one theme can be a task which might seem impossible , so " Vintage meets Modern " theme is your answer to rescue . Where some elements are vintage like vintage typewriters and cabinets, and there were also place cards with modern typography and an Instagram hashtag for guests to use.
Welcome Abroad
Always wanted a Dream Wedding in Paris ,Your guy proposing on his knees right below the Eiffel tower But your budget constrains gave your dream a long pause , Why not bring it to your venue , Turning your entire theme around the country you love the most or it could also be the movie that inspired you like Zindagi Na MilegiDobara's Spanish Senorita or La Tomatina ? Make your Guests feel abroad at home .
A Storybook Wedding
A couple that loves literature and has spent most of the time in the library before they met their soulmate could actually change their vows like they would change the library book at an old library with all the wedding elements complimenting it by sending out "save the date" cards that looked like library cards.
Bazinga Or winter is coming ...
Big Bang theory Or Game of throne All the way ?
Spending hours watching your favorite sitcom and wishing you would have the same adventurous life would have always been your dream , Why not make it real for One day ?One day being it your " The Big day " . Quotes from "The Big Bang Theory" on all of the signs, and test tube and beaker decoration .
Your Prince is on His Horseback , Waiting for you .
You may have got your prince charming but starting your happily ever after in an old tradition way may not be a part of your fairy tale , But A Kingdom Palace Decor , Everyone dressed royal and elegant and your prince coming on his horseback is definitely a part of fairytale .